I would like you to meet our little cutiepoo, Toby. Yes, there's no denying how cute he is. But if you have no idea how to take care of a dachshund, this kind of breed will surely drive you nuts. Crazy as it may sound, my family and I feel like superheros, for keeping a pet is both a privilege and a responsibility - no kidding.
Dachshunds or "doxy" are known for their active and independent demeanor. I think "stubborn" is an understatement for this breed, since they really are hunting dogs. This most definitely means patience in training these pooches. Thanks to my sister, Hershey (Toby's persistent trainer), he was able to learn how to sit and wait for the word "ten" before he eats his food.
If you are a new mommy or daddy to a doxy, here are just a few tips on how to take care of your dachshund:
1. Personality: They cannot live or be left alone outdoors - dachshunds are fun loving dogs but their brave and feisty nature makes them BARK at everything. Yes, EVERYTHING. Dachshunds are vigilant, so strangers trigger their yapping. This is an advantage because they are good guard dogs. But believe me when I say, they bark at a sight of a small lizard even blowing leaves . Toby sure does.
2. Health: Carry them properly and train them to use ramps- due to their long back and short legs, dachshunds are prone to spine problems or inter-vertebral disc disease. Do not allow them to jump on and off sofas, ramp is a good idea to prevent your doxy suffering from a ruptured disc. Also, protect his back by properly carrying him - one arm tucked beneath his hind end and one supporting his front end at the chest. Here's a step by step instructions on how to hold these cuties correctly by dodgerslist.com: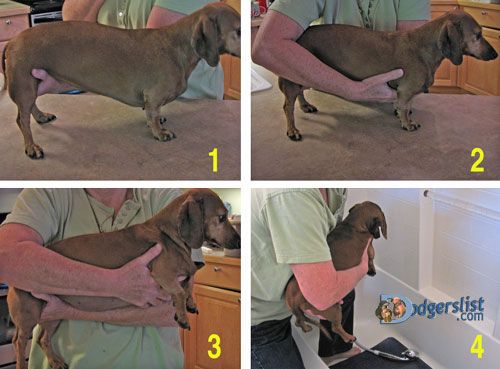 3.
Health: Feed him right
- According to our local vet, Toby's dietary requirement includes: carbohydrates, water, vitamins, minerals protein and fat. There are dog foods created for certain breeds, so make sure you are feeding your dachshund appropriately. Find a brand with ingredients that will keep his bones and joints strong like glucosamine and chondroitin sulfate.
4. Grooming - this kind of breed is low maintenance in terms of grooming. Key points to remember: always brush their coats, keep their nails trimmed and their ears clean. You can either have your vet teach you or have a professional do all these.
| | |
| --- | --- |
| | |
| | |
| --- | --- |
| | |
He might be tiny. But he's intelligent and have got the biggest heart! What I totally love about this breed is his loyalty, love, utter protection and devotion to his "humans". If taken care correctly, this pooch will be by your side for 12 to 15 years. And we plan to be with Toby for more than his life span.
Writing this post made me so happy. Well, my heart melted looking at little Toby. LOL. He just turned two last October, btw. Thanks to my IG friends for greeting him! Till my next, everyone! xoxo